A University of Washington professor has been told that only prewritten "Indigenous land acknowledgement" statements may be used in the classroom after he published a syllabus with an opposing, allegedly offensive claim. 
The school had recommended that faculty include on their syllabi an "Indigenous land acknowledgement," an increasingly common gesture at left-wing institutions in which the speaker or writer acknowledges the native tribes believed to have occupied an area before colonial America. 
The university provided an example statement that says, "The University of Washington acknowledges the Coast Salish peoples of this land, the land which touches the shared waters of all tribes and bands within the Suquamish, Tulalip and Muckleshoot nations."
KENTUCKY UNIVERSITY REFUSES TO GO REMOTE, SAYS 'SCIENCE SHOWS' IN-PERSON LEARNING IS SAFE
Professor Stuart Reges, who teaches at the university's Paul G. Allen School of Computer Science & Engineering, objected to the school's recommendation and responded by publishing his own version of a "land acknowledgement."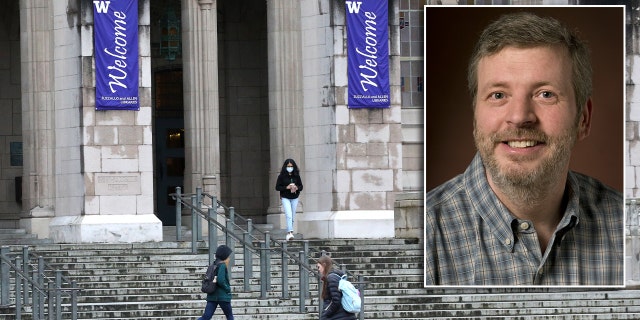 Reges's version of the land acknowledgment, which he included on his syllabus, said, "I acknowledge that by the labor theory of property the Coast Salish people can claim historical ownership of almost none of the land currently occupied by the University of Washington."
The labor theory of property is an academic theory that postulates authentic ownership of land or geographical area is determined by the use of labor to harness natural resources.
MCCARTHY, FOXX DEMAND BIDEN EDUCATION SECRETARY TURN OVER CORRESPONDENCE WITH TEACHERS UNIONS
Reges explained in a faculty email that he was going to include his version "because the Allen School lists this as a diversity best practice. But I have my doubts about whether it really is a good idea to do so."
Reges received an email approximately a month later in…